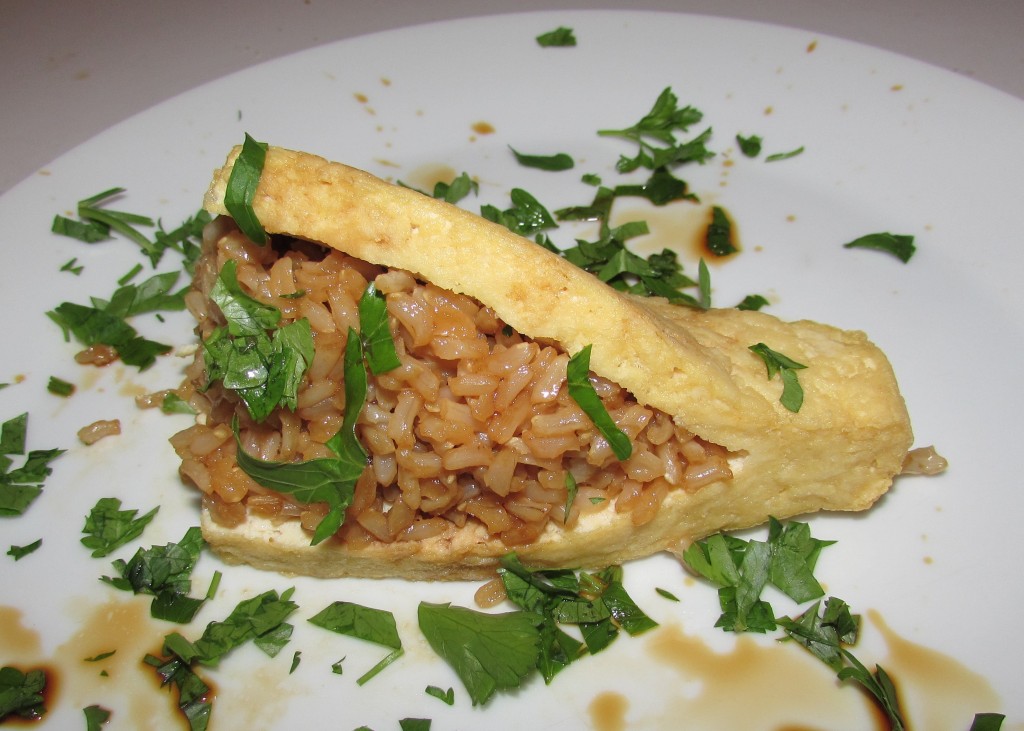 I'm pretty sure a cookbook published in Tennessee in 1935 was the first English language book to carry a recipe that called tofu "tofu." The book, Food for Life, The Art and Science of Preparing Food, published by the Nashville Agricultural Normal Institute, a Seventh Day Adventist school in Madison, Tennessee, carried a couple dozen recipes that called for the stuff. But in all but one it is called "soy cheese." And in most of the other recipes, the tofu was disguised – in a waldorf salad, for instance, or a spaghetti sauce or a rice casserole. One recipe was an exception. To begin with, the title uses the Chinese/Japanese name for the curdled soy product, though the syllables are separated by a space: "To Fu Chi." Moreover, in this recipe, the tofu was no shrinking violet. It is the unmistakable main ingredient. Here it is:
To Fu Chi

Slice soy cheese into slices one inch thick. Cut these slices into the shape of a cornucopia. Brown for one minute in deep fat. Boil rice until tender, blanch in cold water, adding a bit of butter and soy sauce. Slice the browned soy cheese part way open and stuff the rice into this opening. Pour over the cheese more soy sauce and serve with parsley. A bit of sugar mixed with the soy sauce makes a nice addition.

Source: Food for Life, The Art and Science
of Preparing Food (1935)
Researchers at the institute in rural Tennessee had been experimenting with cultivating soybean varieties and turning the harvest into soy foods for a couple of decades, in an ongoing effort by practitioners of the faith, which recommends a vegetarian diet, to find palatable, high-protein substitutes for meat. The author of Food for Life, Frances Linda Dittes, who was director of food and nutrition at the institute, wrote her PhD dissertation on tofu. The book was one of the first that attempted to introduce the odd but nutritious product to mainstream America.
My first glance at the recipe, one of 16 early soy recipes that I reprinted in Vintage Vegetarian Cuisine, left me wondering, what in the world was Frances Dittes thinking? A inch-thick slab of tofu cut into the shape of a cornucopia? Huh?! Then deep-fried, slit open and stuffed with flavored rice? It was sure to be awfully bland, I figured. And it certainly wasn't going to be something that would win fans for tofu.
So, honestly, what was she thinking? My best guess is that Dittes was trying to replicate a common Japanese picnic and school lunchbox item known as inarizushi. She had surely never seen inarizushi but she may well have heard about it from Seventh Day Adventist missionaries who had spent time in Japan. Indeed, according to a history of the Tennessee institute, it was established to train members of the denomination to serve in missions at home and abroad, and returning missionaries may have first sparked the school's interest in soybeans.
There are some resemblances. The tofu skin of inarizushi, called aburaage, is deep-fried, and it is shaped like a pocket, which could have been the inspiration for the curious instruction in the recipe to cut the tofu in the shape of a cornucopia. The rice in inarizushi is flavored with sweetened soy sauce and dashi fish broth. The rice in To Fu Chi seems to be a 1930s Tennessee variation: flavored with sweetened soy sauce and butter.
The rice in inarizushi often includes slivered carrots and/or mushrooms as well as sesame seeds, and it is often garnished with more sesame seeds and perhaps some flecks of seaweed. The parsley, I'm guessing, is a stand-in for seaweed. The most problematic difference? The skin of inarizushi is paper thin. I wasn't sure whether a thick slab of tofu would hold up to being slit open and stuffed. But I resolved to give it my best effort, drawing on a couple of decades of experience with tofu to make it work.
I started with a block of "firm" tofu. As is my practice whenever I stir-fry tofu and want the pieces to hold their shape, I started by pressing the block under a weight for a couple of hours, to force out excess water and compress it. It was still over and inch-and-a-half thick, so I shaved off half an inch. Then I cut the block into an elongated triangle, my best guess at what tofu shaped like a cornucopia should look like. Next, I employed a technique that I learned from one of my daughters several years ago. I froze the tofu triangle for an hour or two, then thawed it. That works wondrously to toughen up tofu for any dish in which you want the tofu to remain intact.
So, how did my experiment with this recipe pan out? As the top photo shows, the tofu did, indeed, keep its shape. And it was pliable yet tough enough that I was able to stuff some rice into the slit without causing it to fall apart. As I expected, the recipe, followed as is, was so bland that few who tried it once would bother with it again. But I had a quick fix for that. After photographing my attempt to faithfully replicate To Fu Chi, I plopped the stuffed block of tofu into a sauce pan with some Trader Joe's Thai Green Curry Simmer Sauce and simmered it on each side for about five minutes. The result: quite delicious, though if I were to do it again, I would try starting with a thinner slab of tofu. Who knows, if there had been Trader Joe's in Madison, Tennessee in the 1930s, and Dittes had used some of their sauces to experiment with more flavorful variations of To Fu Chi, tofu might have taken off in America decades earlier than it did.