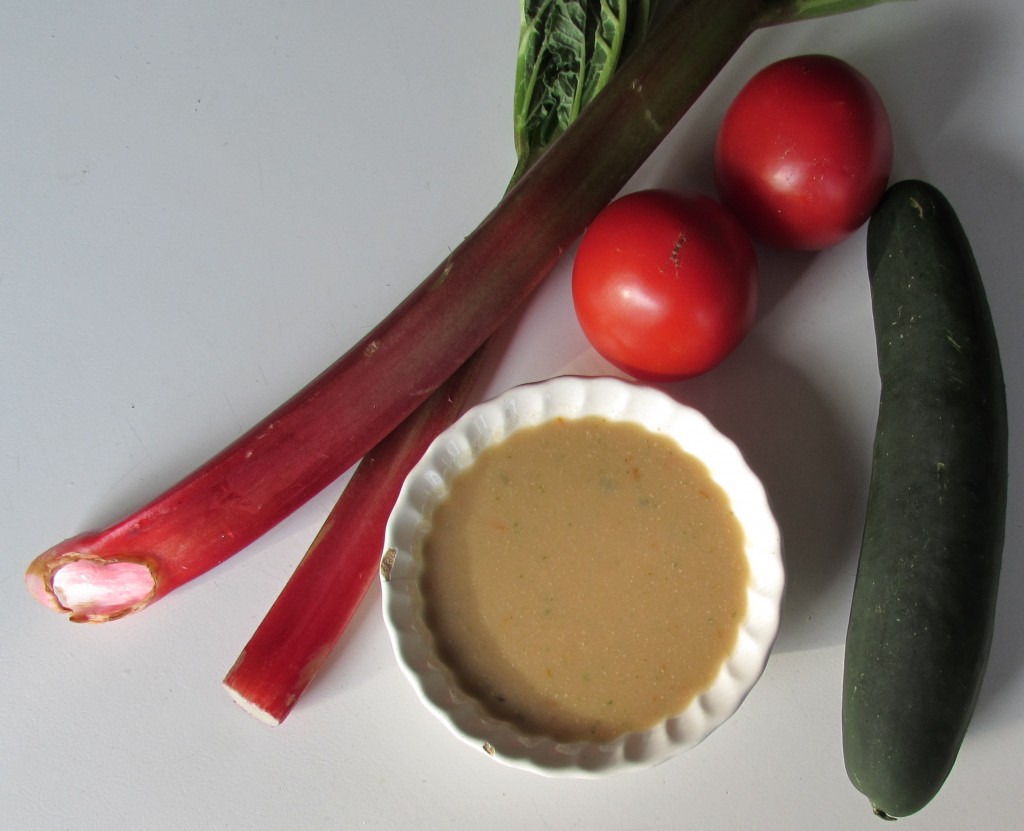 I talked about my book, Vintage Vegetarian Cuisine, at a recent event at the Big Blue Marble bookstore in the Mt. Airy neighborhood of Philadelphia. The intrepid group of attendees were treated – challenged, would be another way to put it – with samples of a couple of old recipes, including one of early 20th century raw foodist George Drews' concoctions, Panacea Soup. It is, in effect, a gazpacho-like blended soup spiked with rhubarb juice. As with most of Drews' recipes, he allows substitutions. On the items with options, I went with rhubarb, peanuts and honey. The sweetener in lieu of olive oil seemed a no-brainer given the bitter kick contributed by the rhubarb juice.
I served shot glass-sized servings to everyone. Only one in 10 asked for a small refill. That'll give you a sense of whether the recipe is palatable or not. It was not, at least as is, all of the book talk-attendees agreed. Everyone also agreed the soup was helped with a pinch of salt, which suggested that, perhaps, it is something that might be saved by still other amendments. Here's the recipe:
Panacea Soup

2 oz. Rhubarb – or Pineapple juice and
1 oz. Peanuts or Pignolias flaked, then add
2 oz. Cucumber peeled and grated
2 oz. Tomato peeled and macerated with a fork,
½ oz. Assorted Savory Herbs minced and
½ oz. Olive Oil (spoonful) or Honey (teaspoonful).

Beat well and serve with an aluminum teaspoon.

Source: Unfired Food and Tropho-Therapy (Food Cure) [1912]
Drews, who lived in Chicago and traveled around the Midwest on lecture tours, does not explain in Unfired Foods what he has against vinegar, but he declares that rhubarb juice is "Nature's most wholesome substitute" for it, and more generally, "fills a large bill in the natural diet."
It must, of course, not be cooked, which is one big strike against rhubarb pie, in Drew's book. But the main reason pies are "very objectionable," in his opinion, is because "they involve the mixing of white flour, starch, oil and commercial sugar which are all perverted approximate food elements." Drews commends it for use in juices, soups, mixed with "nut milk" and "nut cheese," and as a salad or beet dressing.
"The juice is best and most easily extracted in the following manner," Drews writes. "Take the fresh stalk and cut it into two inch lengths and then grate the cut section on a coarse grater until it is grated half way (or one inch). Next turn it about and hold on the gratefl fibre to grate the remainder. Lay the fibre into another dish and when all the sections are grated discard the fibre after the juice is pressed out of it. Now a few fibres will have fallen into the juice and these can be fished out with a fork."